Aaron Rodgers: "My intention is to play for the New York Jets" in 2023 as Packers' move looms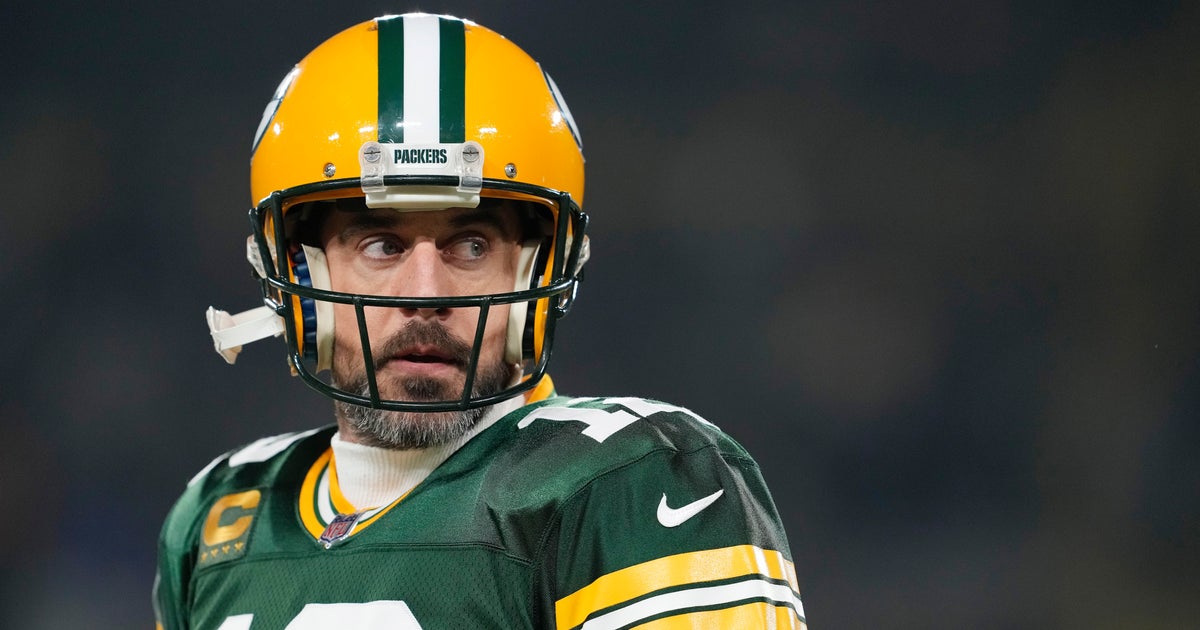 Read Time:
4 Minute, 24 Second
Aaron Rodgers said Wednesday he intends to play for the New York Jets in 2023 after 18 seasons in Green Bay as the four-time NFL MVP quarterback waits for the Packers to trade him.
Rodgers made his comments during an appearance on "The Pat McAfee Show" on YouTube and Sirius XM. The 39-year-old Rodgers said he believes the Packers want to move on and make 2020 first-round pick Jordan Love their starting quarterback.
"At this point, as I sit here, I think since Friday I've made it clear that my intention was to play and my intention is to play for the New York Jets," Rodgers said. "I haven't been holding anything up at this point. It's been compensation the Packers are trying to get for me, kind of digging their heels in."
Packers president and CEO Mark Murphy has acknowledged the team granted the Jets permission to talk to Rodgers. The Jets sent a contingent that reportedly included owner Woody Johnson, coach Robert Saleh and general manager Joe Douglas to Rodgers' home in Southern California last week.
Rodgers expressed his appreciation for his 18 seasons in Green Bay throughout his Wednesday appearance but added that it's time for the Packers "to do the right thing."
"I don't think there's a scenario where they're like, 'Well, we want this and the Jets aren't willing to give it to us, so we'll take you back,'" Rodgers said. "That's not the reality."
Shortly after Rodgers' comments, the New York Jets Twitter account posted a meme of Leonardo DiCaprio's character Rick Dalton — with a Jets cap superimposed on his head — from the 2019 film Once Upon a Time in Hollywood.
Rodgers' comments follow days of speculation that his time in Green Bay might be done.
Packers president and CEO Mark Murphy spoke of Rodgers in the past tense while discussing the quarterback's future to Green Bay TV station WBAY last week during an appearance at the Wisconsin Interscholastic Athletic Association girls basketball championships.
"Very few players play for only one team," Murphy told WBAY. "Obviously Brett (Favre) had a great career. Aaron had a great career here. Regardless of what happens, Aaron will be in the Pro Football Hall of Fame. He'll be in our Hall of Fame. We'll bring him back, retire his number. This is just one of the things that we go through as a team. We want to try to achieve something that's good for both Aaron and us."
The Jets' interest in Rodgers has been apparent as they seek to end the NFL's longest active playoff drought. They lost their final six games while going 7-10 last season and haven't reached the postseason since 2010.
Their new offensive coordinator is former Denver Broncos head coach Nathaniel Hackett, who earned raves from Rodgers while coordinating Green Bay's offense from 2019-21. Saleh and Johnson have both expressed their interest in adding a veteran quarterback to a roster that already features one of the league's best defenses.
If Rodgers ends up with the Jets, it would be a case of history repeating itself.
The Packers sent a 39-year-old Brett Favre to the Jets in 2008, a move that ushered in Rodgers' arrival as Green Bay's starting quarterback. Favre had won three MVPs with Green Bay during his Hall of Fame career.
A first-round pick in the 2005 NFL Draft, Rodgers spent three seasons backing up Favre, who after each of those seasons pondered retirement before eventually deciding to come back for at least one more year, CBS Sports reports. Just as the Packers decided way back in 2008 that they had had their fill of the Favre era and would move onto Rodgers, they are now apparently doing the same with Rodgers himself — according to Rodgers — and looking to move on to Love, whom they selected in the first round of the draft three years ago. If Rodgers gets his wish, he and Favre would've even been traded to the exact same team, on the exact same timeline with respect to when their successor was drafted.
In 15 seasons as the Packers starter, Rodgers has compiled a 147-75-1 regular-season record, completing 65.3% of his passes at an average of 7.7 yards per attempt, throwing for 59,055 yards, 475 touchdowns, and just 105 interceptions, according to CBS Sports. He won the Most Valuable Player award four times, was named a first-team All-Pro four times, a second-teamer once, and a Pro Bowler 10 times, and won both a Super Bowl and Super Bowl MVP. He leaves Green Bay as the franchise's all-time leader in passing touchdowns, and also the owner of NFL single-season records for both passer rating and interception rate. He would join a Jets team that sports one of the NFL's best defenses and an intriguing skill-position group, and reunites with former Packers offensive coordinator Nathaniel Hackett, who now has the same role in New York.