Chinese billionaire arrested and charged in alleged fraud conspiracy that bilked investors of more than $1 billion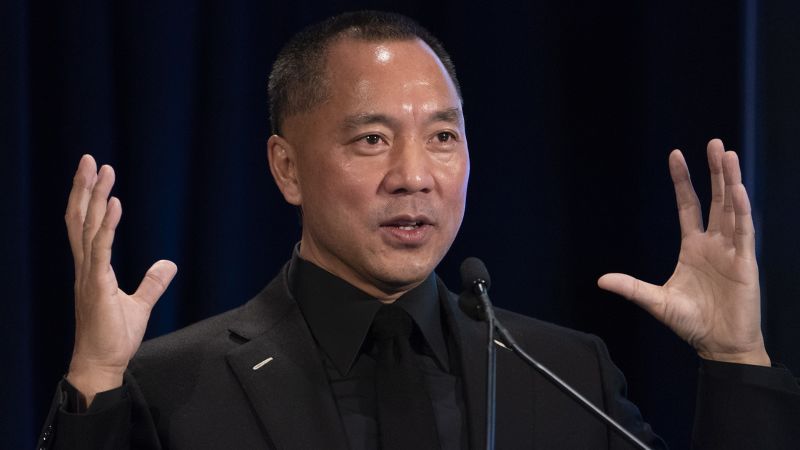 Read Time:
1 Minute, 48 Second

New York
CNN
 — 

Chinese billionaire and proclaimed dissident Guo Wengui was arrested Wednesday and charged with defrauding thousands of followers out of more than $1 billion through complex investment schemes, US prosecutors announced Wednesday.
Wengui, a staunch critic of the Chinese government who is exiled in Manhattan and close to former Donald Trump adviser Steve Bannon, was taken into custody in New York on Wednesday morning. He is charged with defrauding or misappropriating investor money using different schemes, including his media company GTV Media Group, a farm loan program through Himalaya Farm Alliance, and a cryptocurrency called Himalaya Coin.
Wengui is also known as Ho Wan Kwok and Miles Guo.
Prosecutors said instead of using the money the way he promised potential investors, Wengui directed the funds to invest in a hedge fund to benefit GTV and a relative, to cover the maintenance payments for his $37 million, 145-foot luxury yacht, a New Jersey mansion and a custom-built Bugatti sports car valued at $4.4 million. Prosecutors said in a letter to the judge that they are seeking his detention, arguing he poses a serious risk of flight.
CNN has reached out to Wengui's lawyer for comment.
Wengui co-founded two nonprofit organizations, the Rule of Law Foundation and the Rule of Law Society, that prosecutors allege he used to attract a following who believed in many of his ideas.
Those nonprofits were linked to a group promoting the theory that the novel coronavirus was likely engineered in a Chinese lab. The Rule of Law organizations were co-founded by Wengui and Bannon.
Bannon has not been charged in this case.
Bannon was arrested in 2020 on Wengui's yacht on unrelated fraud charges stemming from a border wall fundraising effort. Bannon was pardoned by Trump but indicted on similar state charges. Bannon has pleaded not guilty.
Prosecutors said they have seized $634 million from 21 bank accounts and a Lamborghini Aventador SVJ Roadster.
In addition to criminal charges of conspiracy, wire fraud, securities fraud, international money laundering and obstruction of justice, Wengui was also sued by the Securities and Exchange Commission.