Missouri sheriff and 2 deputies charged in connection with alleged plot to help a father kidnap his child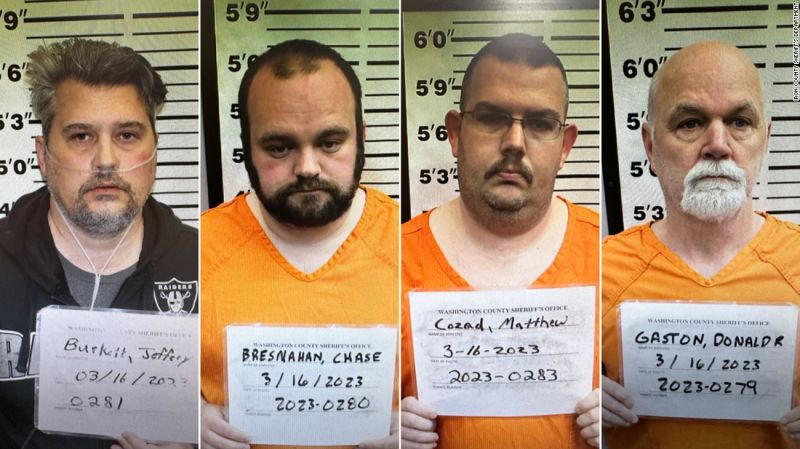 Read Time:
3 Minute, 38 Second


CNN
 — 

A Missouri sheriff and two of his deputies were arrested Thursday and charged in connection with an alleged plot to help a father kidnap his daughter from her mother after an argument last month, charging documents show.
The father, Rick Gaston, 62, was also arrested and faces four felony charges, including attempted parental kidnapping, conspiracy and stalking, and two other misdemeanor charges, according to a criminal complaint.
Iron County Sheriff Jeffery Burkett, 46, is accused of working with the two deputies to find the mother, who was seeking refuge from Gaston, by using her phone records, so that Gaston could take their daughter from her, according to the charging documents obtained by CNN affiliate KSDK.
Burkett and the deputies – Matthew Cozad, 39, and Chase R. Bresnahan, 31 – each face four felony charges, including conspiracy and participating in criminal street gang activities, as well as other misdemeanor charges, the charging documents show. Burkett is also charged with attempted kidnapping.
An investigation into the case was conducted by the Missouri State Highway Patrol, the agency said in a release.
CNN has not been able to determine if Bresnahan, Cozad and Gaston have attorneys.
Burkett's attorney, Gabe Crocker, called the charges "politically motivated."
"There has been an ongoing attempt to remove Sheriff Burkett from office before he even took office," Crocker told CNN.
Iron County is about 90 miles south of St. Louis.
Burkett and the deputies responded to a domestic disturbance call between Gaston and the mother on February 8, the charging documents say.
After the deputies "separated" Gaston and the mother, she took her children, ages 5 and 16, from the home and later sought "safe refuge" in a relative's home, according to the documents, which indicate one of the children is Gaston's daughter.
Two days later, Bresnahan submitted an arrest warrant application for the mother to the Iron County Prosecuting Attorney, who declined to issue any charges, the documents say.
That same day, investigators say Sheriff Burkett contacted dispatchers claiming the mother was possibly intoxicated and her child was potentially injured, according to the documents. He then requested the mother's phone location pings, which require authorities to certify to the cell provider that there is an "immediate danger of death or injury to a person" the documents allege.
Cozad allegedly requested an inquiry into vehicles registered to the mother and asked for officers who encountered her to "stop and hold" the mother, according to the documents.
When Sheriff Burkett believed the mother was traveling to a relative's house in neighboring Washington County, he allegedly told a 911 dispatcher to send sheriff's deputies to "just park at the residence" but not enter the property, the documents say.
"Mr. Gaston is going to come up there and try to get his daughter," Burkett allegedly told the dispatcher, according to the complaint.
At one point, the complaint alleges, the 911 dispatcher informed Burkett the ping locations indicated the mother was likely headed toward her home. Burkett allegedly responded, "I hope like hell she is, because when I catch her, she's gonna sit in my jail."
When the dispatcher asked if the mother should be detained, Burkett allegedly replied, "Yeah, once Mr. Gaston has his little girl, then we'll detain her," according to the complaint.
An unidentified male could be heard on the phone call communicating with Sheriff Burkett, according to the complaint, and prosecutors say it seemed as if that person was telling Burkett what to say.
The mother was later located at an address in a different county, where a sheriff's deputy sergeant conducted a welfare check and "found no visible injuries and stated the children were fine," the complaint says. The sergeant said he did not detain the mother, it says.
All four suspects were being held in Washington County Jail with Burkett's bond set at $500,000 and bond for the three others set at $400,000. Under their bond conditions, the sheriff and deputies cannot serve in their law enforcement roles while the case is pending.
A statement posted to the sheriff's office Facebook page last Friday stated that Burkett had just been released from the hospital due to complications from "lingering Covid-19 symptoms." A booking photo released Thursday showed Burkett wearing an oxygen cannula.