Read Time:
4 Minute, 6 Second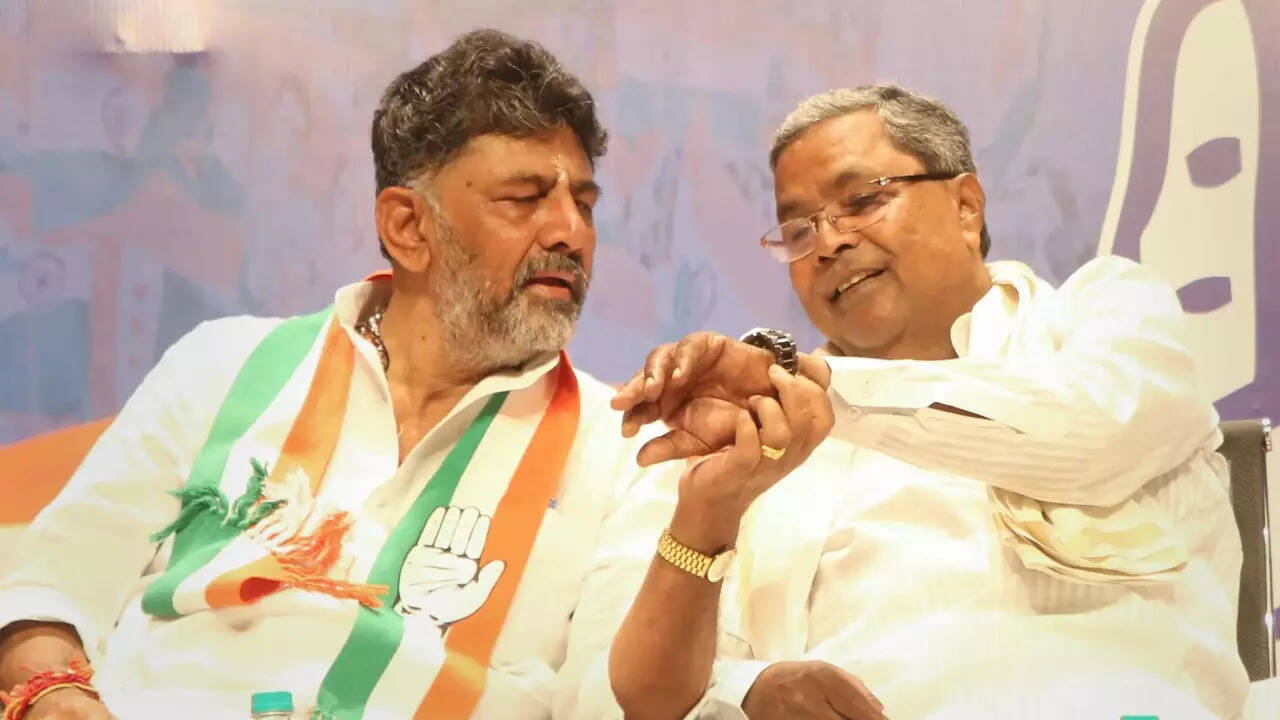 BENGALURU: After hectic parleys in Delhi over the past two days, Congress on Thursday is believed to have zeroed in on 20 to 24 MLAs who are likely to be inducted in the Siddaramaiah government in Karnataka. The new ministers will be sworn in on Saturday at 11.45am, likely at Raj Bhavan, Congress functionaries said.
However, the party is yet to officially announce the list of new ministers owing to a lack of consensus between Siddaramaiah and his deputy, DK Shivakumar, on 3-4 names. These include senior leaders RV Deshpande, HC Mahadevappa and TB Jayachandra. Sources claimed that Shivakumar objected to the three being given the cabinet berths. All three are staunch followers of Siddaramaiah.
However, there is consensus on the remaining probables and both Siddaramaiah and Shivakumar camps are likely to get six berths each, sources added. The other vacancies in the cabinet will be filled up by legislators chosen by the Congress high command, sources said.
The two camps had managed four berths each for their followers when the first set of ministers — excluding Siddaramaiah and Shivakumar — were sworn in last Saturday. Effectively, the two camps could get 10 berths each.
Among those who could make the cut on Saturday are Krishna Byregowda, HK Patil and Eshwara Khandre.
From the MLC quota, party veteran BK Hariprasad might make the cut. The name of former CM Jagadish Shettar is also doing the rounds as he was summoned to Delhi by the party leadership.
None of the ministers inducted so far have been allocated portfolios. The high command is said to have finalised the portfolios and the same are likely yo be announced after the oath-taking ceremony on Saturday.
Siddaramaiah and Shivakumar held meetings with Congress general secretary in charge of Karnataka Randeep Surjewala and general secretary KC Venugopal, before meeting Congress chief Mallikarjun Kharge at his home.
While some leaders in Karnataka Congress have expressed the state government's intent to repeal the controversial laws enacted by the previous BJP government despite the new regime's lack of majority in the legislative council, JD(S) on Thursday said it would extend issue-based support to the governing party, reports BV Shivashankar. Karnataka minister Priyank Kharge has been maintaining that his government is in favour of withdrawing anti-cow slaughter and anti-conversion laws as they are divisive. KA Thippe Swamy, senior JD(S) member of the council, said: "JD(S) and Congress are rival parties, but we have common ground on certain issues."