Read Time:
3 Minute, 54 Second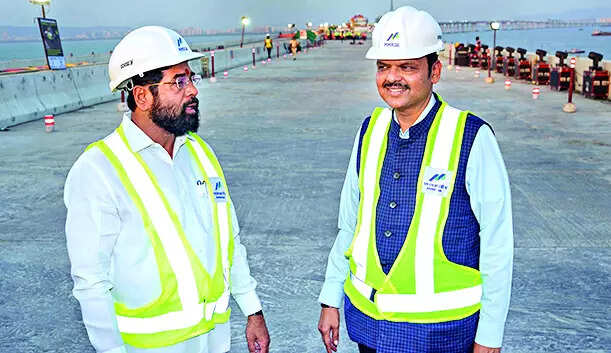 MUMBAI: Even as there is bickering in the MVA over seat-sharing for the 2024
Lok Sabha
elections,
Shiv Sena
led by CM Eknath Shinde has claimed that it has started preparations to fight 22 seats which an undivided Sena had fought in 2019, indicating that the Shinde camp would stake claim to these seats in its alliance with BJP. Sena had fought 23 seats in 2019.
Sena MP Rahul Shewale said at a meeting on Wednesday that the seats of the 13 sitting MPs who are with the Shinde group and the remaining seats, where the MPs are with Sena (UBT), will be reviewed and preparations made for the general elections. Sena leaders said they had a natural claim on those seats.
"The meeting of all MPs was held by CM Eknath Shinde. This was a review meeting in view of the Lok Sabha elections. He reviewed the Lok Sabha work of 13 MPs of Shiv Sena and there was discussion on what to do in order to win the LS polls. There will be joint meetings of BJP-Shiv Sena-RPI in the constituencies of the 13 Sena MPs. Development works will be taken up in all these Lok Sabha constituencies through the CM," Shewale said.
Last year, 12 of Shiv Sena's 19 MPs supported Shinde and asked the Lok Sabha Speaker in a letter that they be identified as a "separate group". Later, Mumbai North-West MP and Sena leader Gajanan Kirtikar (79) became the 13th Sena MP to join Shinde Sena. The Uddhav Thackeray faction is now left with six MPs.
The BJP-Sena combine had in 2019 won 41 of the 48 Lok Sabha seats in Maharashtra, while Congress won one and NCP 4. While Sena won 18 LS seats, BJP won 23. BJP and Sena had contested 25 and 23 seats respectively. Congress had fielded candidates in 25 seats, while NCP had contested 19. Congress and NCP had shared the remaining four seats with their allies.
Last week, Sena (UBT) MP Sanjay Raut said preliminary seat-sharing talks between the MVA partners Shiv Sena (UBT), Congress and NCP for the Lok Sabha polls had begun and that Sena (UBT) will contest all 19 seats where the party has sitting MPs.