Tipu Sultan Sword Auction: Tipu Sultan's bedside sword fetches record Rs 143 crore at UK auction | Bengaluru News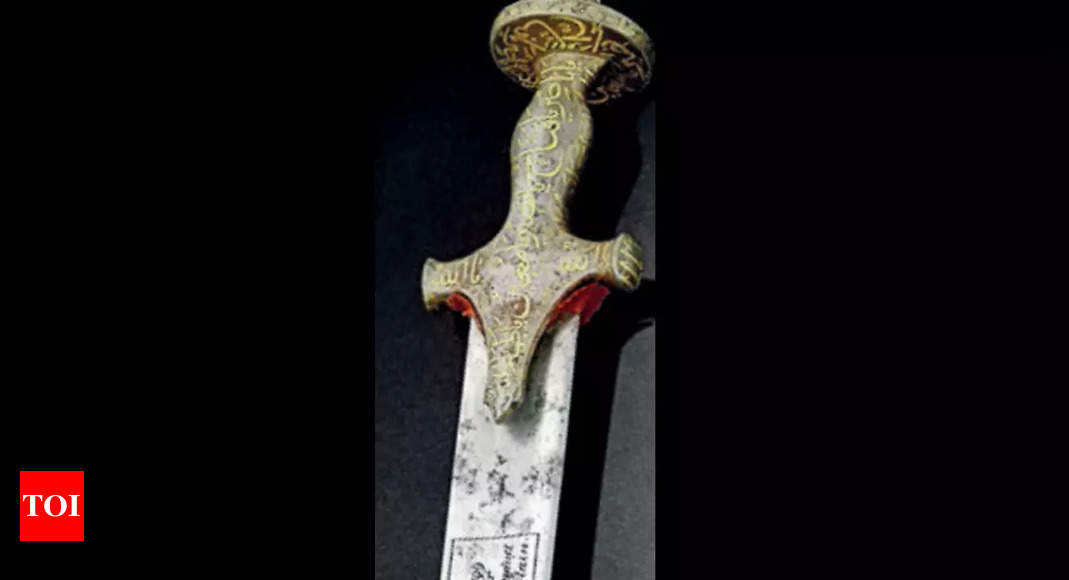 Read Time:
3 Minute, 57 Second
LONDON: A fabled sword found in the private bedchamber of 18th-century Mysore ruler Tipu Sultan has broken all auction records for an Indian object for Bonhams in London, fetching over £14 million (around 143 crore) at its Islamic and Indian Art sale this week.
The sword, from Tipu Sultan's reign between 1782 and 1799, is described as a fine gold koftgari hilted steel sword referred to as sukhela – an emblem of authority. It was found in the private apartments of Tipu and presented to Major General David Baird by the Army of the East India Company as a "token of their high esteem of his courage and conduct in the assault" which resulted in the killing of the Tiger of Mysore.
"This spectacular sword is the greatest of all the weapons linked to Tipu Sultan still in private hands," said Oliver White, Bonhams' Head of Islamic and Indian Art and auctioneer, in a statement ahead of the sale on Tuesday.
The sword had a guide price between £1,500,000 and 2,000,000 but went on to surpass that estimate to fetch £14,080,900.
'Few weapons have such connection to Tipu'
According to historians, of the many weapons removed from the palace of Tipu after the fall of Srirangapatna in May 1799, few have such resonance or such a close connection to the ruler. "This is one of the most astonishing objects Bonhams has had the privilege of bringing to auction. It is a stupendous price for a stupendous piece. I am so thrilled for our teams that worked so hard to deliver this result," said Bruno Vinciguerra, CEO of Bonhams.
As described by Francis Buchanan in his on-the spot account of India from the time, a sword lay within reach of Tipu while he slept. On constant alert against attack, Tipu slept in a hammock suspended from the ceiling of his locked and bolted bedchamber with a pair of pistols and this sword by his side.
The weapon itself is of "exceptional" quality, with the blade inscribed "The Sword of the Ruler".
It was manufactured by Mughal swordsmiths following the model of German blades introduced to India in the 16th century. The hilt is inlaid in exquisitely executed gold calligraphy with the qualities of God and invocations calling on God by name.