Read Time:
4 Minute, 56 Second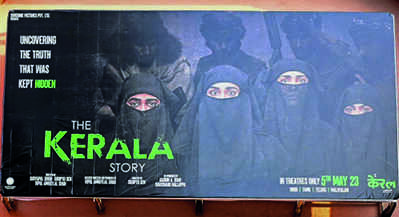 LONDON: Three cinema chains that focus largely on the Midlands in Britain have cancelled scheduled screenings of "The Kerala Story" after receiving complaints from local Muslim communities.
Suresh Varsani, director of the UK distributor 24 Seven Flix4U, told TOI that Light Cinemas, an independent cinema chain, had pulled the movie earlier in the week from all its five cinemas that were scheduled to screen it starting Friday in places like Bradford and Walsall. Another independent cinema chain, Reel Cinemas, also cancelled its screenings at Burnley and Blackburn due to start on Friday. The Showcase Cinemas chain in the Midlands said it would screen it and then decided not to go ahead. "They said they have had many concerns raised by local Muslim community and apologised. One of the chains said it had received negative feedback from site managers and the local Muslim community asked for the film not to be shown."
Cineworld, Odeon and Vue continue to screen the film but Cineworld is focusing on areas that do not have highly populations of Muslims, Varsani said. He said the chain was concerned about the safety of its staff after a renowned Birmingham activist, Shakeel Afsar, son of Najib Afsar, the head of Birmingham-based Jammu Kashmir Liberation Council (JKLC), disrupted a screening at Cineworld Birmingham on May 19 night shouting "This film is BJP, RSS Hindutva propaganda. Cineworld should be ashamed of themselves. We will not accept this type of propaganda. This film was made to divide us." He then accused the audience of being "Hindutva supporters" and refused to leave, saying, "This film must be stopped." He was eventually escorted out by security while throwing his fist in the air shouting "Free Kashmir".
The Piccadilly Cinema in Leicester went ahead with its screening despite various people going into the cinema asking for it not to be shown. "The day before the first screening the manager had a threatening phone call that 200 people would smash the cinema up if it was shown. He still screened it as he reported it to the police and had police protection, but the threats continued. He is showing it every day. Cineworld in Birmingham is carrying on, too."
The movie has grossed just £71,000 (Rs 72 lakh) in its first week in the UK after being released on around 30 screens.
"I could have opened up on a lot more screens up north were it not for the threats. Normally it would have released on 60 to 70 screens and I only got half that. I should have done £150,000 (Rs 1.5 crore) in the first week but have lost it because of restrictions on the screens. I will not be making money on this film," Varsani said. "The movie has got nothing to do with Kashmir or any political party, it is to do with these girls and what happens to them," he added.
In the second week it will be shown on 23 screens in total with Cineworld increasing screens in areas unlikely to be impacted, like Cardiff. The controversy over the film was picked up by UK TV channel GB News. Afsar was invited on to speak, as was the producer,
Vipul Shah
, who told the host, Nigel Farage, that the film was based on the real-life stories of three girls. "More than 40,000 girls have joined ISIS according to a UN report, and the 32,000 figure in the trailer was not specific to India," he said.